In Memoriam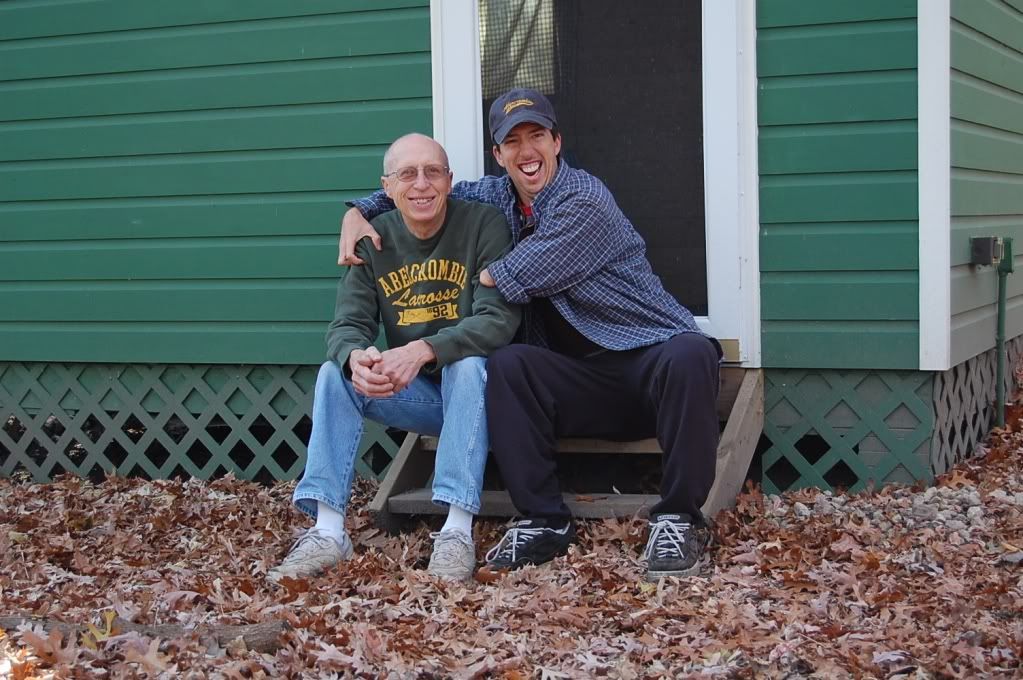 November 2nd 2010
Life is a complete and total mystery. No one really knows why we are here or how we got here. We all just kind of live cause we are born. None of us had a choice in the matter. We were all brought into the world because of the actions of others.
Death is also a complete and total mystery. No one really knows what happens after we die. That fact does not stop us (mankind) from having endless ideas and beliefs about what happens (if anything) and where we go (if anywhere) after we die. I have never thought about it as much as I have in the last 12 months. But no matter how much I think about it, it'll never be something that I will be able to figure out.
Three months after the shooting was rapped on "Camp Kill", my dad, Ken (who was also my best friend) was diagnosed with pancreatic cancer. That was October 2009. The news shattered our lives. It was incomprehensible to us. My dad had always been fit. He biked and worked out every other day. He was in great shape. His thought was, if he stays healthy and treats his body well, he will be around for a while. Made sense. After all, he was all set to retire in November of 2009.
His retirement did not go as planned. It came a month early and consisted of many trips to doctors offices, hospitals, an operation and eight months of chemo. What was supposed to be the most relaxing, enjoyable and carefree part of his life, turned into possibly the worst nine months of his life. That is a fact (of many) that I will spend the rest of my life trying to come to terms with.
The time we shared between October And September was both joyous and sad. We knew that it could be the last winter, the last spring and the last summer we might share. That fact both enhanced our time together cause we knew it was very limited and made it very sad as well. I tried to just live in the moment with him and not worry about what was to come. We just enjoyed our time together.
My dad passed away on September 2nd 2010. I'm still in a state of shock and utter disbelief. I expect these feelings to stay with me for quite some time. Everything he was and all his plans are gone. My dad was the person I was closest to. The person I Loved the most. Loosing him is going to change me and the way I look at life forever. My dad was the most honest, caring guy I have ever known. I was so grateful to have such a great guy for my dad. I felt very lucky. Now I feel very alone.
My dad was a huge part of making "Camp Kill" happen. He had many rolls behind the scenes. He was kind enough to act as executive producer (under the name Frank Smith), production assistant, sign painter and many many other things. He also played the killer. My dad looked back fondly on the production. Watching "Camp Kill' would always take him back to some day or night of the shoot and remind him what is was like doing it. I know he was glad to be part of it. I was very glad to have him be such a big part of it. "Camp Kill' will always be special to me because it's the movie my dad helped most with.
It is so hard to not be able to talk to him now and share my thoughts with him and have him share his thoughts with me. My dad was always someone I could turn to when I was down or when things were bad. Just hearing his voice was enough to take the edge off of the hard times. I loved hearing him talk about his interests like old cars. He sounded like an excited 12 year old when he talked about old cars. He lived and breathed old cars. So much so I wouldn't be surprised if he had a few drops of motor oil in his blood. He built his own 1940 Ford coupe and got much satisfaction from it. I was so happy for him and proud of him for doing that car.
My dad said many times over his last nine months that one good thing about his situation was we were able to have time to say things we have always wanted to say. He had some time to be with the ones he loved and time to say goodbye. Many don't get that. I wish I could have had many more years with him, but I am grateful we had as many years as we did. He will always be with me in my heart as long as I am around.
It will be hard to continue on without him, but I know he would want me to move on.
Thanks dad. Thanks so much for everything you did for me. I will never forget it. I will never forget you.
Your son,
Nate